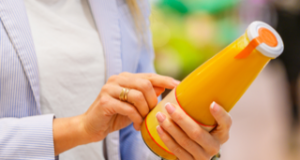 Online Event: Driving greener food & drink choices: Unlocking the potential of the European Commission's proposal on substantiating green claims
Thursday 21 April 2022, 12:00 – 13:30 CEST
Hosted by MEP Franc Bogovič
Vice-Chair of the European Parliament Intergroup on 'Climate Change, Biodiversity & Sustainable Development'
More and more, consumers are interested in the environmental footprint of the products they buy. Increasingly, food and beverage companies provide information on the environmental footprint of their products on-pack or digitally. However, the rules on how to provide such information have been varying until now from one Member State to the other, with disruptive consequences for the EU Single Market.
In July, the European Commission will publish a proposal introducing EU-wide rules on how to substantiate claims on product environmental footprint (so-called "green claims"). This proposal is expected to bring EU-wide harmonisation into a field that, so far, has experienced a proliferation of private and national initiatives in the EU single market.
This upcoming online event, organized under the umbrella of the European Parliament Intergroup on "Climate Change, Biodiversity and Sustainable Development", will bring together EU legislators, industry and civil society. It will look at the impact of the current heterogeneous situation on consumers and small and large companies and explore the benefits of harmonised EU rules on calculation and communication to consumers based on the European Commission Product Environmental Footprint methodology. Finally, this webinar will highlight some enabling factors for a successful EU legislation on substantiating green claims.
Final Agenda:
12:00 – 12:10: Welcome remarks by MEP Franc Bogovič, Vice-Chair of the European Parliament Intergroup on 'Climate Change, Biodiversity and Sustainable Development'
12:10 – 13:00: Panel discussion, with the participation of:
Emmanuelle Maire, Head of B1 Unit on "Circular Economy, Sustainable Production & Consumption", DG ENV, European Commission
Vincent Colomb, Project Manager, French Agency for Ecological Transition
Camille Perrin, Senior Food Policy Officer and Team Leader, BEUC
Gloria Gabellini, Environmental Policy Director at PepsiCo, & Co-chair of FoodDrinkEurope (FDE) Environmental Information Task Force (participating on behalf of FDE)
Betty Chang, Research – Area Lead, EUFIC
Jago Pearson, Director, Foundation Earth
13:00 – 13:20: Q&A session with the audience
13:20 – 13:30 Key take-away messages and closing remarks by MEP Franc Bogovič, Vice-Chair of the European Parliament Intergroup on 'Climate Change, Biodiversity and Sustainable Development'