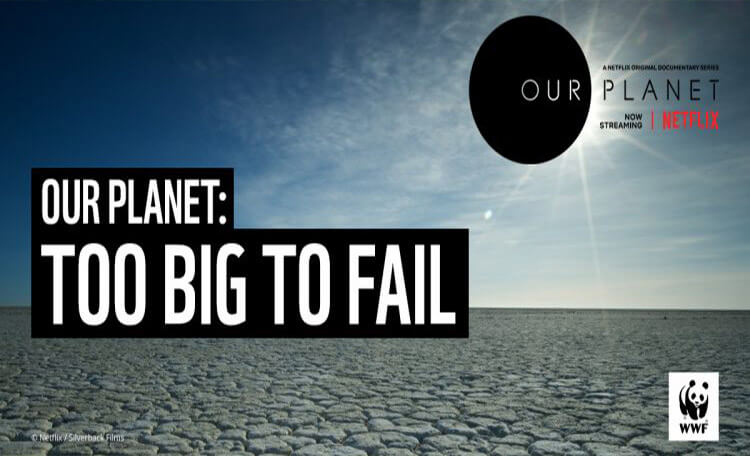 Online Event : Our Planet: Too Big to Fail.
2 March 2021, 13:00 -14:15 (CET)
An online panel discussion on the role of the finance sector in saving the planet, informed by the latest WWF film inspired by the Neflix series Our Planet.
"The natural services that we take for granted, like clean water, fresh air and healthy soil, provide us a value of more than $125 trillion per year, that's over one and a half times global annual GDP."
Inspired by the original Netflix Our Planet series, Our Planet: Too Big To Fail explores the critical role the finance sector can play in helping to save the planet. Our economy is fundamentally underpinned by the stability and the resilience of the natural world. But this stability is no longer guaranteed. The film created by the Emmy® Award-winning Silverback Films and WWF, combines spectacular footage of the natural world from the Our Planet series with thought-provoking interviews from some of the most influential names in the sector.
In doing so, the film raises particularly pertinent questions for European policymakers, financial institutions and stakeholders given the efforts to ensure a sustainable and resilient recovery post-COVID-19. In particular, the forthcoming revised sustainable finance strategy, due to be published by the European Commission in early 2021, will be critical in setting out the policy tools to ensure that Europe's financial system supports an accelerated greening of businesses, urgently needed to underpin a more resilient European society and economy
Following a short screening of the film's highlights, a panel debate with representatives from the EU Institutions will encourage reflection on what the finance sector, in particular, needs to do to address the world's environmental crisis.
Draft agenda
13.00 – 13.05 Welcome
13.05 – 13.15 Screening of Our Planet: Too Big To Fail (8-minute version)
13.15 – 13.45 Panel discussion
Ms Miapetra Kumpula-Natri MEP, Co-chair of the European Parliament Intergroup on 'Climate Change, Biodiversity & Sustainable Development'

Alison Midgley, Sustainable Finance Specialist at WWF-UK

Nadja Picard, Partner & Global Reporting Leader, PwC

Humberto Delgado Rosa, Director Natural Capital – European Commission

Paul Ekins, Chair of research committee on Natural Capital, United Nations Environment Programme
Moderator – Francesca Sharp, Technical Lead – Climate Change, ICAEW
13.45 – 14.00 Open Q&A session
14.00 – 14.15 Wrap up comments & close Ms Kumpula-Natri MEP
About the organisers
Established in 1994 at EBCD's initiative with the support of IUCN, the European Parliament Intergroup on 'Climate Change, Biodiversity and Sustainable Development' benefits from the support of the five most important political groups in the European Parliament, and constitutes the second-oldest as well as one of the most influential Intergroups throughout its 25+ years of experience in the EP. The Intergroup brings together Members of the European Parliament (MEPs) from all political groups and Parliamentary Committees to find sustainable solutions to some of the greatest challenges of our time. This balanced forum of discussion allows MEPs to listen, debate and shape ideas and policies based on contributions from the different stakeholders (relevant experts, NGOs, private sector, researchers and academics) in the presence of the European Commission, EU Presidency, and EU Member States.
There are more than 1.8m chartered accountants and students around the world and 186,500 of them are members and students of ICAEW. We attract talented individuals into the profession and give them the skills and values they need to build resilient businesses, economies and societies, while ensuring our planet's resources are managed sustainably. Founded in 1880, we have a long history of serving the public interest and we continue to work with governments, regulators and business leaders around the world. ICAEW is proud to be part of Chartered Accountants Worldwide, a global network of 750,000 members across 190 countries, which promotes the expertise and skills of chartered accountants on a global basis. ICAEW has been present in Brussels for more than 25 years and is registered on the EU Transparency Register (7719382720-34).
With offices in 155 countries and more than 284,000 people, PwC is among the leading professional services networks in the world. We help organisations and individuals create the value they are looking for, by delivering quality in Assurance, Tax and Advisory services. PwC's purpose is to 'build trust in society and solve important problems' so working with WWF to shine a light on the ecological crisis which will impact all of our clients was a natural fit. To raise awareness of the plight of nature, we hosted screenings, both with our people and other important contacts. At PwC, we believe the business community has a key role to play in averts climate catastrophe and unlocks the potential of green growth. And we're determined to play our part. That's why we're making a worldwide science-based commitment to reach net zero greenhouse gas emissions by 2030, in our operations, working with our clients to accelerate net zero transformation and helping shape and accelerate the global climate and policy agenda.