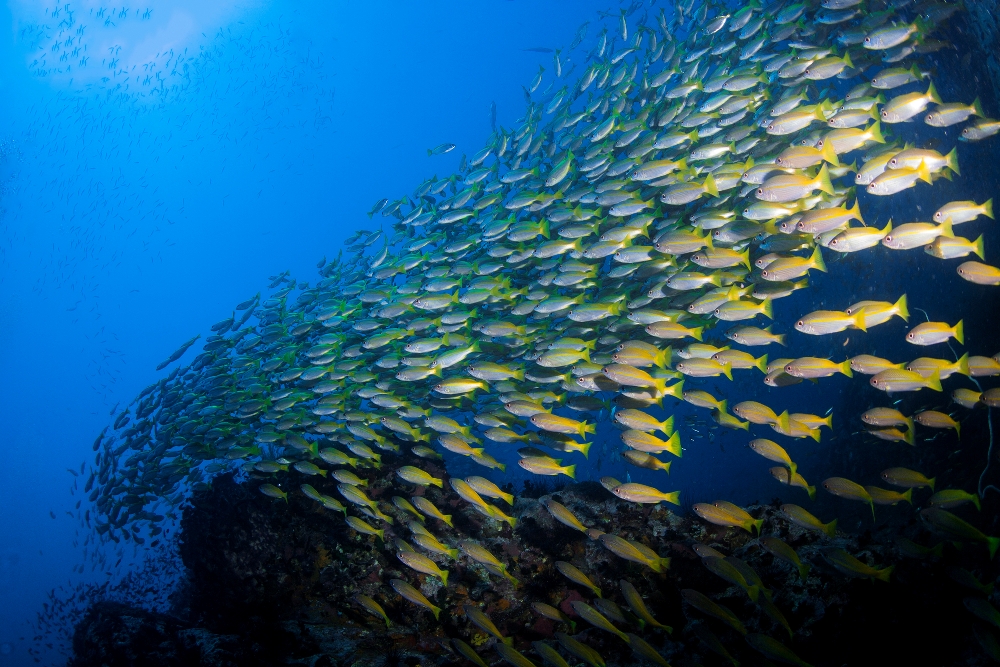 CBD Sustainable Ocean Initiative – Fostering dialogue for the sustainable use of fisheries resources
28 February 2018, 8.30-10.30
Hosted by MEPs Ricardo Serrão Santos and Alain Cadec
Vice-Chairs of the EP Intergroup on "Climate Change, Biodiversity, and Sustainable Development"


The panel included all partners in this initiative:
Jihyun Lee, Coordinator for Marine and Coastal Biodiversity, CBD Secretariat
Árni Mathiesen, Assistant Director-General, Fisheries and Aquaculture Department, The Food and Agriculture Organization of the United Nations
Takehiro Nakamura, Chief Marine and Coastal Ecosystems Unit, UN Environment
Despina Symons, Coordinator, IUCN-CEM-Fisheries Expert Group
Darius Campbell, Secretary of North East Atlantic Fisheries Commission (NEAFC)
Stefaan Depypere, Director "International Ocean Governance and Sustainable Fisheries", DG MARE, European Commission
Matjaž Malgaj, Head of Unit "Marine Environment and Water Industry", DG ENV, European Commission
The event aimed to highlight the CBD/SOI Global Dialogue, the first global initiative of its kind, bringing all relevant regional bodies on environment and fisheries management together in order to facilitate progress toward the Aichi Biodiversity Targets and Sustainable Development Goals. Jihuyn Lee from the CBD Secretariat explained that SOI was created in the margins of the CBD 10th Conference of the Parties in 2010 and provides a global platform to build partnerships and enhance capacity to conserve and sustainably use marine and coastal biodiversity in a holistic approach. The aim of SOI Global Dialogue is to facilitate exchange of experiences and lessons learned, and to identify options and opportunities to enhance cross-sectoral collaboration among Regional Seas Organisations (RSOs) and Regional Fishery Bodies (RFBs) with a view to support their key role in facilitating achievements of the Aichi Targets and relevant SDGs. Following the success of the first meeting of the Global Dialogue (RO Korea, 2016) which brought together 15 RSOs and 15 RFBs, it was agreed to hold it regularly every two years, to further strengthen this global dialogue as a platform to foster regional cross-sectoral cooperation, thereby facilitating concrete implementation activities at both national and regional levels for achieving Aichi Targets and SDGs. The 2nd meeting to be held in 10-13 April 2018 in Seoul, RO Korea, is expected to propose concrete roadmaps and possible regional partnership projects to enhance cross-sectoral collaboration. The progress/potential in contributing to the Aichi Targets and SDGs, as well as other relevant global processes (e.g. BBNJ, World Ocean Assessment) will also be discussed.
The key partners provided input on how their organisations are involved in the SOI and what is needed to further enhance the dialogue for sustainable fisheries.
Árni Mathiesen from FAO underlined that adequate resources need to be provided to the mandating institutions and that we must strive to come to an agreement within regional fisheries management organisations. Further, linking cooperation in sustainable fisheries to relevant international processes such as the Sustainable Development Goals (SDGs) is pivotal. Takehiro Nakamura from UN Environment continued by outlining their Regional Seas Programme, which aims to provide a framework to protect the marine environment through the cooperation of neighbouring countries at the regional sea level. It was emphasised that regional ocean governance initiatives were reported in several regions, which are based on full cross-sectoral cooperation between regional sea conventions and regional fisheries bodies for implementation of sustainable fisheries and SDGs.
Despina Symons explained that IUCN-CEM-FEG, a multi-disciplinary Expert Group with global expertise on ecosystem approach to fisheries and focus on the interface between fisheries management and marine biodiversity conservation, has been providing support to the CBD Secretariat towards AICHI Target 6 and 11. It has been the basis for collaboration between FAO and Regional fisheries management organisations (RFMOs) with CBD and UN Environment. As a result, cooperation between the two bodies has increased considerably with a strong interest to further enhance the dialogue. In order to be successful, policies and actions must be coherent, she said.
Practical experience on how to cooperate in areas of conservation and fisheries was provided by Darius Campbell, the Secretary of NEAFC and former Executive Secretary of the Convention for the Protection of the Marine Environment of the North-East Atlantic (OSPAR) Commission. It was outlined that the two organisations deal with the same region with similar contracting parties, overlapping objectives and some analogous activities, but went many years without speaking to each other. A collective arrangement was agreed upon in 2014, which sets out a non-legally binding framework to cooperate and coordinate without undermining each other's work. It was said to be in a continuing process of development and that the cooperation should also be extended to exchange with international organisations.
Stefaan Depypere (DG MARE) and Matjaž Malgaj (DG ENV) informed that the European Commission is also actively involved in the international and regional approaches and supportive of the SOI. The ocean has been high on the agenda mentioning the recent Communication on International Ocean Governance, which sets out detailed actions to shape international governance in three priority areas; improving the international ocean governance framework; reducing human pressures on oceans; strengthening ocean research and data. Last year's UN Ocean Conference in New York and the Our Ocean Conference held in Malta provided a lot of momentum and commitments. It is a big challenge to translate this attention and political will into concrete results as well as ensure resources for action. Looking ahead to the next SOI Dialogue it was said that the Commission wishes to see 20 joint meaningful examples that are happening at scale. The need to further accelerate trust and capacity building was also raised. It was also outlined that reaching agreements is very difficult but that the Commission will continue to support fostering dialogue and cooperation.
The hosting MEPs reiterated the importance of ocean governance and raising awareness of the SOI within the Parliament. In his role as Chair of the Fisheries Committee, MEP Alain Cadec stressed that the EU has a leading role in exporting a model for sustainable fisheries. The importance of implementing a trans-sector approach and dialogue is key to reach the Biodiversity Aichi Targets. MEP Ricardo Serrão Santos further underlined the importance of food security from both oceans and farming as this will be one of the main topics of discussion in the Parliament this year. The event took place in the room named after Mário Soares former MEP and ocean advocate providing further emphasis on the importance of promoting dialogue and partnerships.
The presentations were followed by a lively debate with the audience, which highlighted the need to continue to work on enhancing this dialogue and calling for further partnerships. To further emphasis the importance of the ocean the UN has designated 2021-2030 the Decade of Ocean Science. A follow-up conference on Ocean Governance and the role of Ecologically or Biologically Significant Marine Areas (EBSAs) is planned to be held in the European Parliament in June.